Steve's Christian Archive
Steve's note :  I don't personally write most of the stuff you'll see here.  Instead, I'm acting as a curator for articles I find interesting, humorous or helpful that I think will benefit Sunday School and Small Group Leaders and their Pastors and church staff.  If you come across something you think I should share here, please drop me a note here :  steveguidry@hotmail.com
-SG
__________________________________________________________________
If you're new to SSU, you'll want to snag a free look at our Video  Sunday School Lesson Previews.  Get them here :
There's no card needed, and nothing to cancel or return. 

If you're already registered, click here to reactivate your subscription :
Click here to reactivate.
(Log in and hit "Go Back".)
_________________________________________
Here's a great article from Thom Ranier
Ten Critical Trends for Churches in 2018
Never in my lifetime have I seen local congregations at such a critical juncture. Cultural Christianity is all but dead. The "Nones," those without any religious preference, are increasing. Many of the communities are no longer friendly to local churches; some have become adversarial.
But in the waves of these seas of negativity, are mercy drops of hope and possibilities. Look at these ten major trends carefully. See how God would have your church respond.
The audio revolution. The e-book has not proved to be nearly as popular as we thought it would be. Many blog writers are reporting declines in readership. But audio books are rising in popularity. Listeners are moving to podcasts so they can learn while they jog, drive, and exercise. Outside of preaching podcasts, churches have many other opportunities to reach and disciple people through audio ministries.
Boomer retirement crisis. Boomer pastors and church leaders are retiring in large numbers. But most of them don't have succession plans. They are in churches from the small to the large. We will have many churches that are looking to fill these voids with little success.
The deferred maintenance crisis in church facilities. My friend, Tim Cool of Cool Solutions Group, keeps reporting about churches that have done little to keep their church facilities in acceptable condition. For many of them, they are experiencing times of reckoning. A church with which I have familiarity had to close 4,000 square feet of space because it was deemed unsafe and uninhabitable. Like Tim says, you pay some now or you pay more later.
Churches moving into retail spaces. The United States has a surplus of retail space, and that surplus will grow. The demise of many brick-and-mortar stores and chains presents an incredible opportunity for churches to find prime space for new and additional sites.
Ongoing church closures. This trend shows no signs of slowing. I hope church leaders and members will be more receptive to acquisitions and mergers before its too late. Too many of these churches are expecting to be bailed out without lifting a finger.
The rise of the neighborhood church. Churches that were once at the center of life in a neighborhood have declined and died. But we see them experiencing a renewal and revival both through acquisitions and re-plants.
The learning revolution of the best church leaders. It is almost cliché to talk about the pace of change in our world and culture. I won't bore you with the statistics and reality of change. But one thing is becoming glaringly obvious. Church leaders who are becoming ongoing learners are becoming the best leaders of these churches. Indeed, we created Church Answers to provide a learning platform for church leaders on a regular basis. Those church leaders who are not continually learning will not be leading well.
Downsizing of worship centers/sanctuaries. This trend is one I have mentioned in recent months, but the pace of downsizing has accelerated. For certain, some of it is due to declining attendance, but that is not the only factor. A number of churches have intentionally moved to smaller worship services through multiple services, venues, and campuses.
The rise of networks. More churches are aligning with both informal and formal networks with a common cause and common purpose. Those that are part of denominations typically choose to stay with their denominations for both doctrinal and legacy reasons. Acts 29 is an example of a church planting network more aligned with Reformed churches. Watch for new networks to form with different emphases and a broader evangelical doctrine.
More Great Commission intentionality. When cultural Christianity was alive and well, churches could do minimal evangelistic activity and still grow by transfer growth. Such is not the case any more. Churches will have to be highly intentional evangelistically in the months ahead or they will head toward death and closure.
In future posts, I plan to offer solutions for churches for many of these issues. For now, I am sharing information about Church Answers to assist church leaders with the challenge of ongoing learning.
Many congregations are at a tipping point. Some will die. Some will thrive. My prayer is that the summary of these trends can be used of God in your churches to move your congregation toward greater health and Great Commission obedience.
_________________________________________
Want more discussion in your Sunday School Class ?  Click here.
_________________________________________
I found this article by J. Alan Branch at ftc.co, the Christian Resource library from Midwestern Seminary.

The Lies of Romantic Sexual Morality
Katheryn Elizabeth "Katy" Hudson (b. 1984), aka Katy Perry, is the daughter of parents who were Pentecostal pastors. Having moved far from her evangelical upbringing, she is the author of the 2010 song Teenage Dream, which in many ways reflects how Christian kids move quickly to a sloppy form of moral reasoning concerning sex. At one point she sings, "Let's go all the way tonight; no regrets, just love."
Perry's idea of "no regrets, just love" is a form of what has been called the "Romantic Sexual Morality," i.e. sex is moral as long as the couple "loves" each other. When Christian teens and single adults go wrong in their sexual ethics, they usually have some fuzzy form of "Romantic Morality" as their moral reference point, saying, "Sex outside of marriage can't be wrong because we truly "love" each other." Often, this form of moral reasoning is combined with several other wrong-headed ideas which are quite destructive. Here are some brief responses to three common arguments used to advocate premarital sex.
"Premarital Sex is Fun."
Our culture stresses that premarital sex is fun and should be pursued. In fact, for many young people it is not only premarital sex they seek, but casual premarital sex. For example, one of the most popular euphemisms for sexual intercourse is "hook up." When a couple claims they "hooked up" at a party, it may mean they engaged in heavy petting and intensely passionate kissing, or it may mean they had sexual intercourse.  Caroline J. Simon gives a good definition of the term: "Hookups are noncommittal, sexualized exchanges were sexual intercourse may or may not be involved. Hookup also conveys that sexual exchanges, whatever the details, are no big deal."[1] Indeed, many professed Christians have become convinced that sexual encounters before marriage are "no big deal" and shouldn't be avoided.
In response, no sexual encounter is ever "casual." In 1 Corinthians 6:14-17, Paul stresses that when we have sex with someone, we are joined to them in a unique manner, a joining God intended only for marriage. We are bonded to that person with whom we had sex and, in some way, a bit of them stays with us. Again, no sexual encounter is ever "casual." Furthermore, sexual sin is indeed fun, but only for a season. But, the seasons change, the leaves fade, and the bill comes due. Casual sex is associated with higher incidences of STDS and out-of-wedlock pregnancy, neither of which are any "fun." Furthermore, casual sex actually cheapens you as a person by suggesting your only value is in the pleasure you can provide another person. Your value as a person is found in the cross of Christ and your identity is as someone who has been bought by the price of His own blood (1 Corinthians 6:20).
"We are going to Get Married Anyway."
If a Christian couple is engaged or committed and heading towards marriage, they may argue, "If we are in love, committed to each other, and clearly going to marry, what's the significance of a piece of paper (i.e., marriage certificate)?" They may add that refraining from sex until marriage is actually so frustrating that it can be harmful to their emotional well-being and adjustments to sex.[2] This is another form of the "Romantic Morality."
In response, some Christian couples who are engaged or dating may indeed have sex and eventually marry each other. But for most, the promise that "we are going to get married" is just a lie. In many cases the couple breaks up and both the guy and the girl move on to other people. Unfortunately, they have left their purity and honesty behind.
"The Bible Doesn't Really Forbid Premarital Sex."
I've encountered people who say something to the effect of, "I've read the Bible, and I have not found a single verse that says, 'You shall not have sex before you are married.'" People making this argument sometimes say the Bible is clear that adultery is sin, but is not clear about sex prior to marriage.
In response, the "Bible Doesn't Specifically Forbid It" argument is based on shallow, flawed hermeneutics. I call it "Hermeneutics via Google," with young people often insisting, "I have done my research!" When the person making this argument says they have done "research," they mean they have performed one or two Google searches. There is a tremendous difference between reading passages in context and reading selected verses generated from a search engine.
In the New Testament, the Greek word porneia is commonly translated as "sexual immorality." Sex before marriage is certainly included in porneia because it is a general word covering all sexual immorality. It has at least four clear meanings by virtue of the context: It can mean adultery (Matt. 5:32); it can mean sexual immorality in general (Acts 15:20; 1 Cor. 5:1); it can mean prostitution; and it clearly points in the direction of unmarried people who are to avoid sexual immorality. To defend the last point, two passages are important:
1 Corinthians 7:2 (NASB): But because of immoralities [porneias, plural of porneia], each man is to have his own wife, and each woman is to have her own husband.
1 Thessalonians 4:3-5 (NASB): For this is the will of God, your sanctification; that is, that you abstain from sexual immorality; that each of you know how to possess his own vessel in sanctification and honor, not in lustful passion, like the Gentiles who do not know God.
In both 1 Corinthians 7:2 and 1 Thessalonians 4:3-5, marriage is encouraged so that single Christians can avoid porneia. The unstated premise in both verses is that single Christians should not have sex prior to marriage.    
Conclusion
Sexual abstinence before marriage is the clear Biblical standard and arguments otherwise are based on a very poor grasp of Scripture and a shoddy handling of the texts in question. Abstinence before marriage leads to a life of integrity and joy and is foundational to a marriage that is strong and based on Christ. _________________________________________
Lane Corley with the LA Baptist Convention posted this recently on his site :  www.lanecorley.com . . .  How are the local Baptist Associations doing in your state ?
What's Up With the Local Baptist Association?
In Louisiana, there are 32 Associations of Southern Baptist Churches. Each Fall, my job as Church Planting Strategist with the Louisiana Baptists allows me to attend 6-8 of their annual meetings. This year, I attended meetings in several different parts of the state. I love Associations & Associational Annual meetings, because I love LOCAL. And it's in the local that you can get a glimpse of the Southern Baptist Convention at the ground level. For those of you who don't know, Associations are basically regional networks of Southern Baptist churches that affiliate based on their geography. We have associations with as few as 15 churches and as many as 120 in Louisiana. Each Association has a Director (the DOM), a slate of officers, and ministry teams that have various functions from church revitalization to disaster relief. Each Association has 2-3 Executive Board meetings each year. Executive Boards are made up of pastors and members of local Southern Baptist churches. Each Association has one Annual Meeting, usually in the Fall, where business is conducted and budgets are set for the following year. Churches voluntarily give a set amount or percentage of their budgets to the local association.
Here's a few encouraging observations after attending about 15 Associational Annual Meetings over the last few years:
Young Pastors are showing up, serving, and asking questions when they have opportunity. 

Two of the largest associations in our state had moderators that were under 40 last year. Younger pastors seem not only interested in, but excited about being part of what's happening locally and in supporting their local association.

The Southern Baptist Convention is growing at the Associational level.

Every Annual Meeting I attended this year had new congregations affiliating and being voted in as member churches. The Association is where you join in Southern Baptist life. Connecting at the national and state levels is through voluntary financial contributions. It's great to see churches choosing the deeper connection and accountability that local affiliation provides.

Strategies are not monolithic and that's OK with everyone.

Each association seems to go about the work a little differently. Some are more institutional, other are more organic and network like. Some are more pastor focused, others are more missions focused. Interestingly enough, they all work when the people agree and engage. There's no sense of competition or "why don't we do it more like…" among associations.

Much great work is being done that you and I will never know about.

The southern baptist association is not a big conference topic and the small church pastors, or big church pastors in smaller towns, that are usually more engaged in associational life, may never write a book or speak at a major conference. However, the innovation and creativity and passion for the local mission always amazes me when I'm able to gather with a local association.

Generational gaps in methodology appear to be closing.

A few years ago, there seemed to be present among younger and older pastors an "us" vs. "them" mentality toward the how to's of church and outreach and ministry. That gap appears to be closing. The older generation is amen-ing and cheering on the younger. The younger generation are asking question of the older. All are seeing the culture changes shaking our foundation as bigger than fighting for my preferred methodology or philosophy.

Local churches are meeting each others needs through their associations.

When churches experience conflict, face property damage, pastors experience debilitating health issues, churches experience the loss of a pastor, etc., it's beautiful to see the local associations of churches work toward providing for their sister congregations.

There are questions about the future, but the Local Association is not going away.

Attendance at associational meetings seem to be growing, not shrinking. Shifts are taking place to make associations more nimble and flexible for the sake of the mission. Thom Rainer reports that there are only 575 out of 51,000 southern baptist churches that have over 1,000 in attendance. Dr. Chuck Kelley reported that 90% of all SBC churches have 250 people or less attending worship on any given Sunday. Nearly 70% of all SBC churches have 100 or fewer in attendance each week. It's these churches that need and are seeking the fellowship of fellow pastors and missions leaders at the associational and state level. Institutions are adjusting. There are questions about the future, but these networks do not appear to be going anywhere.
Find out more about the Baptist Associations in Louisiana HERE. For an overview of Southern Baptist life and where Associations fit in, check out this Presentation.
_________________________________________
Click here to connect with Steve on Linked In.
_________________________________________
I saw this on the Alabama Baptist site . . .
(Note :  SarahJane Guidry is no relation – – that I know of.)     -SG-
New Orleans Seminary hosts debate about marriage, LGBT issues
---
October 20, 2017
Advocates from several perspectives on same-sex "marriage" and LGBT (lesbian, gay, bisexual and transgender) rights discussed the emotionally and politically charged issues, which often pit the Church against the prevailing culture, during a forum at New Orleans Baptist Theological Seminary.
The "Rights and Sexuality: Where Individual Freedoms and Civil Rights Meet" event was sponsored by the seminary's Institute for Faith and the Public Square.
Lloyd Harsch, the institute's director, noted, "What we are trying to do with the Institute for Faith and the Public Square is to provide a safe environment for rational conversation on difficult issues where we can listen to each other and find common ground." A video of the forum is available at www.faith-publicsquare.org/past-events.html.
Tony Campolo, professor emeritus of sociology at Eastern University in St. Davids, Pennsylvania, and SarahJane Guidry, executive director of Louisiana's Forum for Equality, advocated for acceptance of same-sex "marriage" and greater LGBT protections. Craig V. Mitchell, a Christian ethicist and political scientist, and Travis Weber, a lawyer with the Family Research Council, argued for traditional marriage and protections for those who oppose same-sex "marriage" on religious grounds. Forum organizers described the speakers as respectful, modeling civil discussion on matters of deep and passionate disagreement.
Mitchell opposed same-sex "marriage" by articulating the heart of the evangelical argument against the practice — homosexuality is at odds with Scripture. However, Mitchell was clear that the Church must oppose those who would mistreat LGBT individuals.
'Salt and light'
"The Church is supposed to be salt and light," Mitchell said. "We need to call sin what it is; at the same time we need to show the love of Christ. We need to love the sinner while hating the sin."
Mitchell acknowledged missteps by the Church in its attempts to love the LGBT community while upholding a biblical view of marriage. However, he sees the stance on homosexuality as a sin as the key point of tension between the church and LGBT advocates.
Campolo opposed same-sex "marriage" until two-and-a-half years ago when his view shifted toward acceptance of same-sex "marriage" in part because of his work counseling homosexuals. Campolo acknowledged he could be wrong on homosexuality.
While Campolo and Mitchell disagreed on same-sex "marriage," the two found some common ground on the issue of church-state entanglement in marriage. The state licenses both the couple who is getting married and the clergy member who conducts the service. It is the clergy member, Campolo said, who solemnizes the union. Yet in America, these functions are mingled together.
"If you want to get married in Amsterdam you go down to the city hall and you register and a civil ceremony takes place," Campolo said. "If you want a religious blessing, you then go to the church and the minister or the priest blesses the relationship. Separating the two things solves all the problems."
Mitchell agreed that separating the civil and religious aspects of marriage could relieve some, but not all, of the conflict regarding same-sex "marriage." Even with the separation of the civil and religious aspects of marriage, he said the Church must still point out sin and call for repentance.
"No one likes to be called a sinner, yet every one of us is," Mitchell said. "It is the job of the Church to remind people."
The tension between the Church and the state was evident throughout the discussion — especially regarding the cases of bakers and wedding photographers.
Weber said the religious freedom laws in the country have not changed but the way the LGBT community responds to those laws is changing. There is a growing conflict between traditional Judeo-Christian beliefs on sexuality and "those who believe in self-centered, individualized sexual autonomy detached from any outside moral framework," Weber said.
'Compelling reason'
Religious freedom laws require a "compelling reason" for the government to deny a religious objection, Weber said. In the cases involving bakers and photographers who refuse commissions for same-sex ceremonies, he sees no compelling reason to deny their religious objection.
"Jack Phillips (Christian baker in Colorado) was happy to provide items from his bakery to anyone who walks into his shop," Weber said. "He just didn't want to provide a cake for the [same-sex] wedding ceremony."
For Weber, Phillips' refusal should be protected because it is clearly based on his own moral and religious beliefs. The objection did not infringe on the couple's ability to have a cake at their ceremony. Many other bakers were willing to accept the commissions for same-sex ceremonies, Weber said.
"There's no reason to force those who have a conscience objection to being involved in [the ceremony] … to be implicated against their conscience," Weber said. "The way forward is to recognize the religious rights of these individuals."
Campolo and Guidry argued that concerns for equality in conducting business outweigh the personal convictions of the private business owner. For them, the state and local authority to issue business permits implies that the state grants the privilege of conducting business and can require equal treatment of potential customers.
"That baker is operating with a license that was granted by the state," Campolo said. "The state represents what? All the people. If the privilege of baking cakes is given by all the people, then all the people should have access to the service that is provided."
Guidry also disagreed with Weber on the issue of private businesses. She affirmed the right of clergy members and churches to decide what marriages they choose to solemnize. However, she argued that individual protections do not extend to individual business owners or to elected officials tasked with granting marriage licenses.
Conservative lawmakers in several states have sought new laws to clarify religious freedoms and protect business owners who have moral objections. Guidry called such laws a "license to discriminate" against the LGBT community. (BP)
_________________________________________

Please Like SSU on FaceBook
___________________________________________
 I ran across this the other day on Patheos.com . . . You might like it.
Christian: You Are Upset About the Wrong Things
 by Darrell Lackey.
Sociologist Tony Campolo has been known, when speaking to Christian audiences, to begin by saying something like this:
I have three things I'd like to say today. First, while you were sleeping last night, 30,000 kids died of starvation or diseases related to malnutrition. Second, most of you don't give a shit. What's worse is that you're more upset with the fact I just said "shit" than you are that 30,000 kids died last night.
When citing this, I have had people prove his very point by responding something to the effect of, "Yeah, I get it, but I still wish he would make his point some other way…" Ummm, that is his point. His point, in my opinion, isn't really about the children (although it is, obviously); his point is that we (Christians) get upset over the wrong things. Our moral sense of outrage is often misdirected.
The fact that we notice the language, our being offended, before we really register the fact that children are dying, tells us all we need to know. Any focus on a crude term and not on his greater point that children are dying of starvation or malnutrition and that we might be complicit proves his very point. If there was a tiny gasp from the crowd at that word or an awkward silence—such reactions were misdirected. These people were upset about the wrong thing.
The legalistic, simplistic, and shallow world of fundamentalism (and even many aspects of evangelicalism) breeds some rather odd triggers for what it is we are supposed to get upset about. Here are just a few:
If you become upset when hearing that gay marriage is legal or that a transgender person may use the same public restroom as you, but you are less upset regarding the hate, violence, and discrimination directed toward such people, often leading to suicide: You are upset about the wrong things.
If you become upset when people use the greeting "Happy Holidays" instead of "Merry Christmas," but you are less upset at the wasteful use of resources during this season and the rampant shallow consumerism while many live in poverty: You are upset about the wrong things.
If you become upset when the government uses its power to make corporations protect their workers and protect the environment, but you are less upset when those workers are exploited, injured, or the environment is critically harmed: You are upset about the wrong things.
If you become upset at the grocery store when you see someone pay for their food with vouchers or food stamps, but you are less upset with the institutional and cultural structures that often create the very need for such help: You are upset about the wrong things.
If you become upset when you see people smoking cigarettes or drinking alcohol, but you are less upset when you see people over-eating, knowing the health effects of such, or wasting food, knowing that people go to bed hungry every night: You are upset about the wrong things.
If you become upset when Hollywood puts out movies that contain coarse language or nudity, but you are less upset with the excessive, sadistic, and pornographic displays of violence, murders, gore, and bloodletting in war movies, action movies, or even movies like "The Passion of the Christ": You are upset about the wrong things.
If you become upset when the government tries to pass reasonable gun restriction laws, but you are less upset with the amount of accidental firearm-related deaths among children and the general level of gun violence in America: You are upset about the wrong things.
If you become upset when you feel the government is restricting your religious liberties, but you are less upset or even applaud the restriction of the religious liberties of others: You are upset about the wrong things.
If you become upset when someone commits adultery or at the sexual lapses of others, but you are less upset when people gather around to stone them, or gather around to throw insults, or gossip, or shun them, or shame them, or pass laws to single them out: You are upset about the wrong things.
If the response to the above is still, "I get it, BUT…" you have missed the point and made the point, all at the same time. Yes, you can be upset at those other aspects (rightly or wrongly). The point, however, is that those aspects pale in insignificance when placed alongside the deeper and much more important moral failing noted—the failing that should really upset us. It would be like someone telling Jesus, just before he overturned the money-changer's tables and grabbed a whip, how upset they were at the price of doves that year. It isn't a false dichotomy. It's a problem of scale.
I am reminded of a scene in the movie "Life is Beautiful" where we see Guido (Roberto Benigni) so happy to think that his old friend, the Nazi doctor, will help him after the doctor recognizes him and makes his life easier inside the death camp. The doctor remembers how clever his friend was, and how he could solve difficult riddles. We begin to think the doctor realizes the moral wrongness of the death camp. Maybe he will try and save Guido and his family. But no, we finally realize, as does Guido, that the doctor simply wanted help solving a riddle. He doesn't see Guido or the suffering. That doesn't upset him. What upsets him is not finding the answer to something as insignificant as a riddle. He even says he can't sleep at night because of it.
An extreme example? Maybe. Still, I think such is the sort of person we look like, and are perhaps in danger of becoming, when we get upset over the wrong things, when we focus on the incidental and miss the deeper moral issue. Christian: Don't be that person.
---
About Darrell Lackey
Darrell Lackey has been a lead pastor and currently works in the private sector. He is part of a home gathering of some amazing, wonderful Christians and a graduate of the University of San Francisco and Golden Gate Baptist Theological Seminary (Now Gateway). You can follow him or read more of his writings at Divergence (A Journey Out of Funda-gelicalism). He and his wife reside in Northern California.
_________________________________________
Like the blog ? Please try our Video Sunday School Lesson Previews. They'll help focus your study time as you prepare to teach. See a sample here. Get this week's Video Lesson Preview by registering as a new user. If you've only had a Trial subscription, the first month is free. If you've already had a trial, then you can reactivate your subscription by clicking here
Log In Here and following the prompts. Detailed instructions are found here.
_________________________________________
This article showed up in my FaceBook feed the other day, and I thought I'd share it.  If you like it, please visit the author's blog here :  http://www.alisachilders.com/
Five signs your church might beheading toward Progressive Christianity
Several years ago, my husband and I began attending a local Evangelical, non-denominational church, and we loved it. We cherished the sense of community we found among the loving and authentic people we met there, and the intelligent, "outside the box" pastor who led our flock with thought-provoking and insightful sermons. Sadly, the church started going off the rails theologically, and after about a year and a half, we made the difficult decision to leave. Today that church is a self-titled "Progressive Christian Community." 
Back then I had never heard of "Progressive Christianity," and even now it is difficult to pin down what actually qualifies someone as a Progressive Christian, due to the diversity of beliefs that fall under that designation.  However, there are signs—certain phrases and ideas—that seem to be consistent in Progressive circles. Here are 5 danger signs to watch for in your church:
 1. There is a lowered view of the Bible 
One of the main differences between Progressive Christianity and Historic Christianity is its view of the Bible. Historically, Christians have viewed the Bible as the Word of God and authoritative for our lives. Progressive Christianity generally abandons these terms, emphasizing personal belief over biblical mandate.
Comments you might hear:
The Bible is a human book…
I disagree with the Apostle Paul on that issue…
The Bible condones immorality, so we are obligated to reject what it says in certain places…
The Bible "contains" the word of God…
2. Feelings are emphasized over facts
In Progressive churches, personal experiences, feelings, and opinions tend to be valued above objective truth. As the Bible ceases to be viewed as God's definitive word, what a person feels to be true becomes the ultimate authority for faith and practice.
Comments you might hear:
That Bible verse doesn't resonate with me….
I thought homosexuality was a sin until I met and befriended some gay people….
I just can't believe Jesus would send good people to hell….
3. Essential Christian doctrines are open for re-interpretation
Progressive author John Pavlovitz wrote, "There are no sacred cows [in Progressive Christianity]….Tradition, dogma, and doctrine are all fair game, because all pass through the hands of flawed humanity." Progressive Christians are often open to re-defining and re-interpreting the Bible on hot-button moral issues like homosexuality and abortion, and also cardinal doctrines such as the virgin conception and the bodily resurrection of Jesus. The only sacred cow is "no sacred cows." 
Comments you might hear:
The resurrection of Jesus doesn't have to be factual to speak truth….
The church's historic position on sexuality is archaic and needs to be updated within a modern framework…
The idea of a literal hell is offensive to non-Christians and needs to be re-interpreted….
4. Historic terms are re-defined
There are some Progressive Christians who say they affirm doctrines like biblical inspiration, inerrancy, and authority, but they have to do linguistic gymnastics to make those words mean what they want them to mean. I remember asking a Pastor, "Do you believe the Bible is divinely inspired?" He answered confidently, "Yes, of course!" However, I mistakenly assumed that when using the word "inspired," we both meant the same thing. He clarified months later what he meant—that the Bible is inspired in the same way and on the same level as many other Christian books, songs, and sermons. This, of course, is not how Christians have historically understood the doctrine of divine inspiration.
Another word that tends to get a Progressive make-over is the word "love." When plucked out of its biblical context, it becomes a catch-all term for everything non-confrontative, pleasant, and affirming.
Comments you might hear:
God wouldn't punish sinners—He is love….
Sure, the Bible is authoritative—but we've misunderstood it for the first 2,000 years of church history…
It's not our job to talk to anyone about sin—it's our job to just love them….
5.  The heart of the gospel message shifts from sin and redemption to social justice
There is no doubt that the Bible commands us to take care of the unfortunate and defend those who are oppressed. This is a very real and profoundly important part of what it means to live out our Christian faith. However, the core message of Christianity—the gospel—is that Jesus died for our sins, was buried and resurrected, and thereby reconciled us to God. This is the message that will truly bring freedom to the oppressed. 
Many Progressive Christians today find the concept of God willing His Son to die on the cross to be embarrassing or even appalling. Sometimes referred to as "cosmic child abuse," the idea of blood atonement is de-emphasized or denied altogether, with social justice and good works enthroned in its place.
Comments you might hear:
Sin doesn't separate us from God—we are made in His image and He called us good….
God didn't actually require a sacrifice for our sins—the first Christians picked up on the pagan practice of animal sacrifice and told the Jesus story in similar terms….
We don't really need to preach the gospel—we just need to show love by bringing justice to the oppressed and provision to the needy…
Conclusion:
Identifying the signs is not always obvious—sometimes they are subtle and mixed with a lot of truth. Progressive Christianity can be persuasive and enticing, but carried out to its logical end, it is an assault on the foundational framework of Christianity, leaving it disarmed of its saving power.
We shouldn't be surprised to find some of these ideas infiltrating our churches. Jesus warned us, "Watch out for false prophets" who "come to you in sheep's clothing, but inwardly they are ferocious wolves" (Matthew 7:15). So if you spot any of these 5 danger signs in your place of worship, it might be time to pray about finding fellowship in a more biblically faithful church community.
_________________________________________
Like the blog ? Please try our Video Sunday School Lesson Previews. They'll help focus your study time as you prepare to teach. See a sample here. Get this week's Video Lesson Preview by registering as a new user. If you've only had a Trial subscription, the first month is free. If you've already had a trial, then you can reactivate your subscription by clicking here
Log In Here and following the prompts. Detailed instructions are found here.
_________________________________________
In case you're looking around at church and "wondering where all the young people are" . . .
I ran across this article on faithit.com the other day. It was a re-print of the original column on recklesslyalive.com by Sam Eaton. Click here for the link to the original article.
_________________________________________
59 Percent of Millennials Raised in a Church Have Dropped Out—And They're Trying to Tell Us Why
From the depths of my heart, I want to love church.
I want to be head-over-heals for church like the unshakable Ned Flanders.
I want to send global, sky-writing airplanes telling the life-change that happens beneath a steeple. I want to install a police microphone on top of my car and cruise the streets screaming to the masses about the magical Utopian community of believers waiting for them just down the street.
I desperately want to feel this way about church, but I don't. Not even a little bit. In fact, like much of my generation, I feel the complete opposite.
Turns out I identify more with Maria from The Sound of Music staring out the abbey window, longing to be free.
It seems all-too-often our churches are actually causing more damage than good, and the statistics are showing a staggering number of millennials have taken note.
According to this study (and many others like it) church attendance and impressions of the church are the lowest in recent history, and most drastic among millennials described as 22- to 35-year-olds.
Only 2 in 10 Americans under 30 believe attending a church is important or worthwhile (an all-time low).

59 percent of millennials raised in a church have dropped out.

35 percent of millennials have an anti-church stance, believing the church does more harm than good.

Millennials are the least likely age group of anyone to attend church (by far).
As I sat in our large church's annual meeting last month, I looked around for anyone in my age bracket. It was a little like a Titanic search party…
IS ANYONE ALIVE OUT THERE? CAN ANYBODY HEAR ME?
Tuning in and out of the 90-minute state-of-the-church address, I kept wondering to myself, where are my people? And then the scarier question, why I am still here?
A deep-seated dissatisfaction has been growing in me and, despite my greatest attempts to whack-a-mole it back down, no matter what I do it continues to rise out of my wirey frame.
[To follow my publicly-chronicled church struggles, check out my other posts The How Can I Help Project and 50 Ways to Serve the Least of These.]
Despite the steep drop-off in millennials, most churches seem to be continuing on with business as usual. Sure, maybe they add a food truck here or a bowling night there, but no one seems to be reacting with any level of concern that matches these STAGGERING statistics.
Where is the task-force searching for the lost generation? Where is the introspective reflection necessary when 1/3 of a generation is ANTI-CHURCH?
The truth is no one has asked me why millennials don't like church. Luckily, as a public school teacher, I am highly skilled at answering questions before they're asked. It's a gift really.
So, at the risk of being excommunicated, here is the metaphorical nailing of my own 12 theses to the wooden door of the American, Millennial-less Church.
1. Nobody's Listening to Us
Millennials value voice and receptivity above all else. When a church forges ahead without ever asking for our input we get the message loud and clear: Nobody cares what we think. Why then, should we blindly serve an institution that we cannot change or shape?
Solution:
Create regular outlets (forums, surveys, meetings) to discover the needs of young adults both inside AND outside the church.

Invite millennials to serve on leadership teams or advisory boards where they can make a difference.

Hire a young adults pastor who has the desire and skill-set to connect with millennials.
2. We're Sick of Hearing About Values & Mission Statements
Sweet Moses people, give it a rest.
Of course as an organization it's important to be moving in the same direction, but that should easier for Christians than anyone because we already have a leader to follow. Jesus was insanely clear about our purpose on earth:
"'Love the Lord your God with all your heart and with all your soul and with all your mind and with all your strength.' The second is this: 'Love your neighbor as yourself.' There is no commandment greater than these." (Mark 12:30-31)
"Love God. Love Others." Task completed.
Why does every church need its own mission statement anyway? Aren't we all one body of Christ, serving one God? What would happen if the entire American Church came together in our commonalities and used the same, concise mission statement?
Solution:
Stop wasting time on the religious mambo jambo and get back to the heart of the gospel. If you have to explain your mission and values to the church, it's overly-religious and much too complicated.

We're not impressed with the hours you brag about spending behind closed doors wrestling with Christianese words on a paper. We're impressed with actions and service.
3. Helping the Poor Isn't a Priority
My heart is broken for how radically self-centered and utterly American our institution has become.
Let's clock the number of hours the average church attender spends in "church-type" activities. Bible studies, meetings, groups, social functions, book clubs, planning meetings, talking about building community, discussing a new mission statement…
Now let's clock the number of hours spent serving the least of these. Oooooo, awkward.
If the numbers are not equal please check your Bible for better comprehension (or revisit the universal church mission statement stated above).
"If our lives do not reflect radical compassion for the poor, there is reason to wonder if Christ is in us at all." –Radical, David Platt
Solutions:
Stop creating more Bible studies and Christian activity. Community happens best in service with a shared purpose.

Survey your members asking them what injustice or cause God has placed on their hearts. Then connect people who share similar passions. Create space for them to meet and brainstorm and then sit back and watch what God brings to life.

Create group serve dates once a month where anyone can show up and make a difference (and, oh yeah, they'll also meet new people).
4. We're Tired of You Blaming the Culture
From Elvis' hips to rap music, from Footloose to "twerking," every older generation comes to the same conclusion: The world is going to pot faster than the state of Colorado. We're aware of the down-falls of the culture—believe it or not we are actually living in it too.
Perhaps it's easier to focus on how terrible the world is out there than actually address the mess within.
Solution:
Put the end times rhetoric to rest and focus on real solutions and real impact in our immediate community.

Explicitly teach us how our lives should differ from the culture. (If this teaching isn't happening in your life, check out the book Weird: Because Normal Isn't Working by Craig Groeschel)
5.  The "You Can't Sit With Us" Affect
There is this life-changing movie all humans must see, regardless of gender. The film is of course the 2004 classic Mean Girls.
In the film, the most popular girl in school forgets to wear pink on a Wednesday (a cardinal sin), to which Gretchen Weiners screams, "YOU CAN'T SIT WITH US!"
Today, my mom said to me, "Church has always felt exclusive and 'cliquey,' like high school." With sadness in her voice she continued, "and I've never been good at that game so I stopped playing."
The truth is, I share her experience. As do thousands of others.
Until the church finds a way to be radically kinder and more compassionate than the world at large, we tell outsiders they're better off on their own. And the truth is, many times they are.
Solutions:
Create authentic communities with a shared purpose centered around service.

Create and train a team of CONNECT people whose purpose is to seek out the outliers on Sunday mornings or during other events. Explicitly teach people these skills as they do not come naturally to most of the population.

Stop placing blame on individuals who struggle to get connected. For some people, especially those that are shy or struggle with anxiety, putting yourself out there even just once might be an overwhelming task. We have to find ways to bridge that gap.
6. Distrust & Misallocation of Resources
Over and over we've been told to "tithe" and give 10 percent of our incomes to the church, but where does that money actually go? Millennials, more than any other generation, don't trust institutions, for we have witnessed over and over how corrupt and self-serving they can be.
We want pain-staking transparency. We want to see on the church homepage a document where we can track every dollar.
Why should thousands of our hard-earned dollars go toward a mortgage on a multi-million dollar building that isn't being utilized to serve the community, or to pay for another celebratory bouncy castle when that same cash-money could provide food, clean water and shelter for someone in need?
Solution:
Go out of your way to make all financial records readily accessible. Earn our trust so we can give with confidence.

Create an environment of frugality.

Move to zero-based budgeting where departments aren't allocated certain dollar amounts but are asked to justify each purchase.

Challenge church staff to think about the opportunity cost. Could these dollars be used to better serve the kingdom?
7. We Want to Be Mentored, Not Preached At
Preaching just doesn't reach our generation like our parents and grandparents. See: millennial church attendance. We have millions of podcasts and Youtube videos of pastors the world over at our fingertips.
For that reason, the currency of good preaching is at its lowest value in history.
Millennials crave relationship, to have someone walking beside them through the muck. We are the generation with the highest ever percentage of fatherless homes.
We're looking for mentors who are authentically invested in our lives and our future. If we don't have real people who actually care about us, why not just listen to a sermon from the couch (with the ecstasy of donuts and sweatpants)?
Solutions:
Create a database of adult mentors and young adults looking for someone to walk with them.

Ask the older generation to be intentional with the millennials in your church.
8. We Want to Feel Valued
Churches tend to rely heavily on their young adults to serve. You're single, what else do you have to do? In fact, we're tapped incessantly to help out. And, at its worst extreme, spiritually manipulated with the cringe-worthy words "you're letting your church down."
Millennials are told by this world from the second we wake up to the second we take a sleeping pill that we aren't good enough.
We desperately need the church to tell us we are enough, exactly the way we are. No conditions or expectations.
We need a church that sees us and believes in us, that cheers us on and encourages us to chase our big crazy dreams.
Solutions:
Return to point #1: listening.

Go out of your way to thank the people who are giving so much of their life to the church.
9. We Want You to Talk to Us About Controversial Issues (Because No One Is)
People in their 20s and 30s are making the biggest decisions of their entire lives: career, education, relationships, marriage, sex, finances, children, purpose, chemicals, body image.
We need someone consistently speaking truth into every single one of those areas.
No, I don't think a sermon-series on sex is appropriate for a sanctuary full of families, but we have to create a place where someone older is showing us a better way because these topics are the teaching millennials are starving for. We don't like how the world is telling us to live, but we never hear from our church either.
Solutions:
Create real and relevant space for young adults to learn, grow and be vulnerable.

Create an opportunity for young adults to find and connect with mentors.

Create a young adults program that transitions high school youth through late adulthood rather than abandoning them in their time of greatest need.

Intentionally train young adults in how to live a godly life instead of leaving them to fend for themselves.
10. The Public Perception

It's time to focus on changing the public perception of the church within the community. The neighbors, the city and the people around our church buildings should be audibly thankful the congregation is part of their neighborhood. We should be serving the crap out of them.
We desperately need to be calling the schools and the city, knocking on doors, asking everyone around us how we can make their world better. When the public opinion shows 1/3 millennials are ANTI-CHURCH, we are outright failing at being the aroma of Christ.
Solutions:
Call the local government and schools to ask what their needs are. (See: Service Day from #3)

Find ways to connect with neighbors within the community.

Make your presence known and felt at city events.
11. Stop Talking About Us (Unless You're Actually Going to Do Something)
Words without follow-up are far worse than ignoring us completely. Despite the stereotypes about us, we are listening to phrases being spoken in our general direction. Lip service, however, doesn't cut it. We are scrutinizing every action that follows what you say (because we're sick of being ignored and listening to broken promises).
Solutions:
Stop speaking in abstract sound bites and make a tangible plan for how to reach millennials.

If you want the respect of our generation, under-promise and over-deliver.
12. You're Failing to Adapt
Here's the bottom line, church—you aren't reaching millennials. Enough with the excuses and the blame; we need to accept reality and intentionally move toward this generation that is terrifyingly anti-church.
"The price of doing the same old thing is far higher than the price of change." —Bill Clinton
"The art of life is a constant readjustment to our surroundings." —Kakuzo Okakaura
"Adapt or perish, now as ever, is nature's inexorable imperative." – H.G. Wells
Solution:
Look at the data and take a risk for goodness sake. We can't keep trying the same things and just wish that millennials magically wander through the door.

Admit that you're out of your element with this generation and talk to the millennials you already have before they ask themselves, what I am still doing here.
You see, church leaders, our generation just isn't interested in playing church anymore, and there are real, possible solutions to filling our congregations with young adults. It's obvious you're not understanding the gravity of the problem at hand and aren't nearly as alarmed as you should be about the crossroads we're at.
You're complacent, irrelevant and approaching extinction. A smattering of mostly older people, doing mostly the same things they've always done, isn't going to turn to the tide.
Feel free to write to me off as just another angry, selfy-addicted millennial. Believe me, at this point I'm beyond used to being abandoned and ignored.
The truth is, church, it's your move.
Decide if millennials actually matter to you and let us know. In the meantime, we'll be over here in our sweatpants listening to podcasts, serving the poor and agreeing with public opinion that perhaps church isn't as important or worthwhile as our parents have lead us to believe.
About the Author: Sam Eaton is a writer, speaker, and in-progress author who's in love with all things Jesus, laughter, adventure, hilarious dance parties and vulnerability. Sam is also the founder of Recklessly Alive Ministries, a mental health and suicide-prevention ministry sprinting towards a world with zero deaths from suicide. Come hang out with him at RecklesslyAlive.com.
_________________________________________
Like the blog ?  Check out SSU's Q/A Study Guides by clicking here.
_________________________________________
The Hottest Thing at Church Today
by Tim Challies
According to a new study by Gallup, the hottest thing at church today is not the worship and not the pastor. It's not the smoke and lights and it's not the hip and relevant youth programs. It's not even the organic, fair trade coffee at the cafe. The hottest thing at church today is the preaching. Not only is it the preaching, but a very specific form of it—preaching based on the Bible. And just like that, decades of church growth bunkum is thrown under the bus. As Christianity Today says, "Despite a new wave of contemporary church buzzwords like relational, relevant, and intentional, people who show up on Sundays are looking for the same thing that has long anchored most services: preaching centered on the Bible." Praise God.
Praise God, but please don't jump on the bandwagon. The last thing we need is a bunch of preachers responding to this poll by suddenly ditching their series on "7 Keys to Successful Relationships" or "5 Secrets to a Happy Home" to dabble in biblical exposition. What we need is for preachers to search the Scripture, then to commit to biblical exposition.
Pragmatism Dies Hard
For decades, the Western church has been dominated by the church growth movement, a movement that drew heavily from the business principles of pragmatism. Pragmatism insists that the end justifies the means. It demands that we establish goals, determine the best means to achieve those goals, then assume that success proves that both the goal and the means are good. As one of the fathers of church growth said, "Never criticize what God is blessing." According to pragmatism, there is no distinction between what works and what is experiencing God's hand of blessing. One proves the other.
The church growth movement established the goal of having as many people as possible profess faith in Jesus Christ. To do this, it would need to make church attractive to unbelievers. This demanded changing the services to make them seeker-friendly, changing the music to make it more contemporary, and even changing the gospel to make it less offensive. Of course, it also demanded changing the preaching to make it more palatable and that meant preaching themes and principles rather than preaching the Bible itself. Pragmatism is so ingrained in the very fabric of the church today that it is extremely difficult to root out. Churches that have been immersed in it have to battle tooth and nail against its seductions. They need to retrain themselves to look not to what appears to work, but to what the Bible demands.
My concern with the results of this poll is that it will convince many pastors to change course for pragmatic reasons. They will see that the people want biblical exposition and, therefore, they will provide it. But they will do so not on the basis of biblical convictions, but on the basis of pragmatism. Ironically, to switch to expositional preaching on the basis of a poll is the very essence of pragmatism. It is to determine what the people want, then to assume the right thing is to give it to them.
What God's People Want and Need
It should come as no surprise that God's people want God's Word. A baby wants nothing more than his mother's milk because he needs nothing more than his mother's milk. A Christian wants nothing more than God's Word because there is nothing he needs more than God's Word. The Christian may not know it or be able to verbalize it any more than the baby can, but within every true believer will be a deep hunger to be fed by spiritual food—food that is found only in the Word of God. Those churches that committed to preaching endless series of sermonettes for Christianettes were starving their people. They were starving sheep in order to entertain goats.
Now Gallup assures us that we've gotten it wrong, that what Christians want is the straightforward preaching of the Bible. I'm glad to read these results. I'm glad that God's people are choosing God's Word. But I don't want pastors and their churches to jump on the biblical exposition bandwagon. Instead, I want them to search the Scriptures, to see what God says about the relationship of his people to his Word, to understand the purpose of the weekly gatherings of the local church, and then to commit from this day forward to preach God's Word to God's people.
Here's the thing: Eventually Gallup or Barna or someone else will come up with a new poll that will display new results and mere bandwagoners will veer to this new course. Their deep-rooted pragmatism will drive them to the next big thing. But people who are convinced from the Bible that there is nothing better than to preach the Bible will stay the course. Even when Bible-based preaching is the very last thing people want, these pastors will know it is the very first thing they need.
_________________________________________
Like the blog ? Please try our Video Sunday School Lesson Previews. They'll help focus your study time as you prepare to teach. See a sample here. Get this week's Video Lesson Preview by registering as a new user. If you've only had a Trial subscription, the first month is free. If you've already had a trial, then you can reactivate your subscription by clicking here
Log In Here and following the prompts. Detailed instructions are found here.


_________________________________________
The Top 7 Reasons Guests Return to Your Church
by Dan Reiland
The most common reason people check out your church is someone invited them.
The most common reason people leave your church is they don't feel connected.
But what are the most common reasons people return to your church after their first visit or two?
There's lots of conversation about church attendance patterns these days, and that affects how we measure guest retention rate, and the length of time it takes for guests to connect with your church.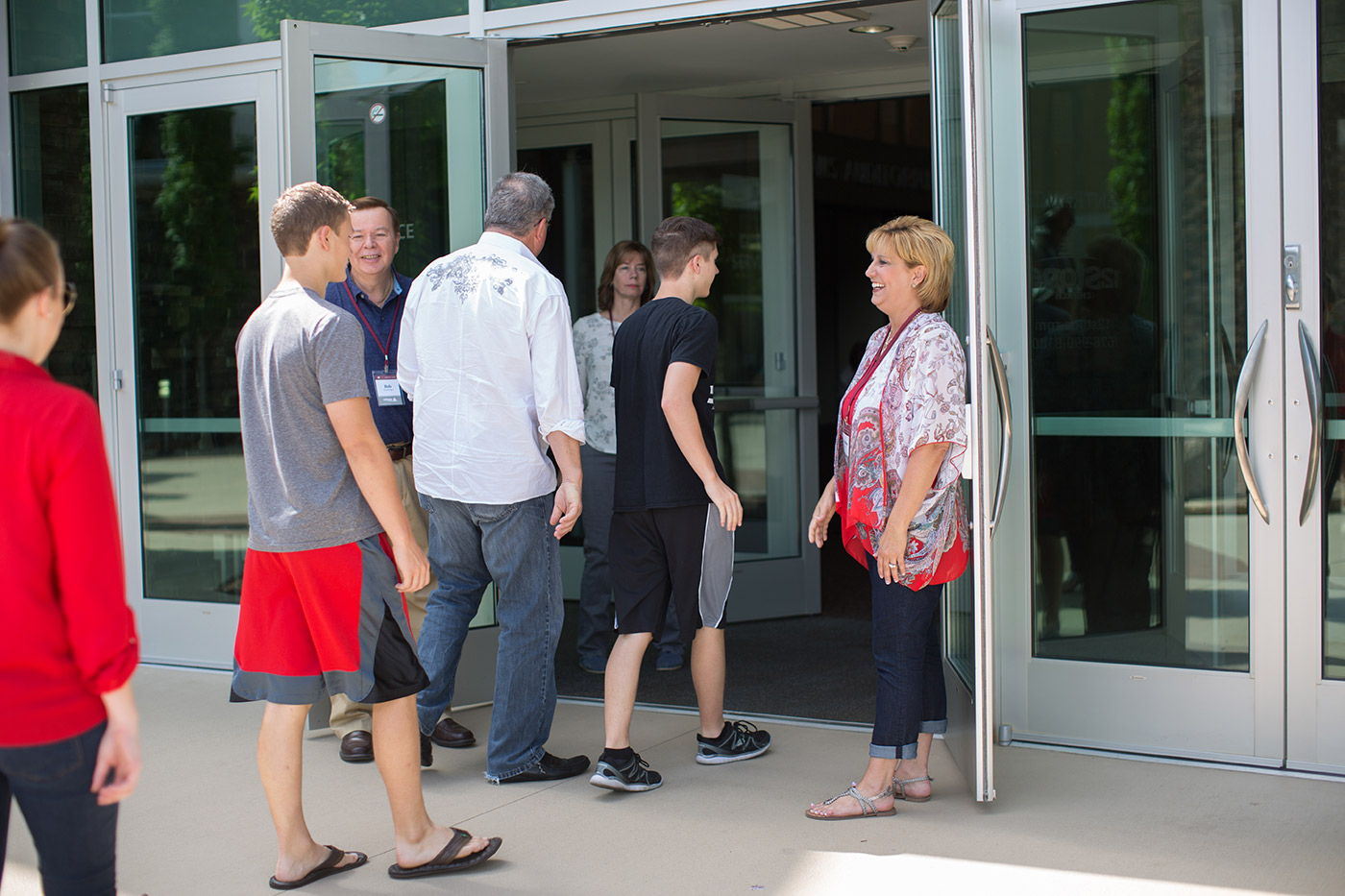 Here's a new reality, new people connect more slowly than in the past and disconnect more quickly than we've previously experienced. It's a double-edged sword. It takes longer for new people to connect because they don't necessarily attend every week. And, they disconnect faster because the best "connection factors" are relationally based and therefore depend on attendance!
We can't change current culture, or can we?
Here are three big reasons why people attend church less frequently (not in order):
Online church is provided 24/7 on demand, so simply put, there is a less perceived need to physically attend a church.

Families are busier now than ever. From demands in their jobs (travel etc.) to sports for their kids on weekends, people are on the go nearly seven days a week.

People get bored faster than lightening. If guests attend your church and it gives off even a hint of being out of date, not fresh, "seen this before" or in some way behind or irrelevant, they are gone!
That's difficult to compete with, so perhaps competing is not the answer. We might be wise to focus just a little less on why people don't come, and invest more energy into why people do come. Focusing on what church does best is a smarter approach. Doing it the way your church does it best, is smarter still.
That takes us back to the top reasons guests return to your church. Put your energy here.
Top 7 Reasons Guests Return:
1) The presence of God is felt.
There is an unmistakable awareness of the presence and power of God at work. It may be inspirational and filled with emotion, or a more quiet and peaceful stirring within, but however it's experienced, the presence of God is felt.
2) The key leaders are perceived as trustworthy.
Guests come to your church at varying levels of "readiness" to trust the leaders they encounter. But it's surprising how quickly they can discern if they trust you or not. Even from only a message or two, or brief connections in the lobby, they intuitively have decided if they can trust you. Your level of authenticity and clarity of communication make a huge difference in this process.
3) The worship service is positive, relevant, biblically sound, and executed with heart and excellence.
You don't have to compete with the other churches near you. The important thing is to be the very best that you can. For example, if the worship team isn't strong, select less challenging music, and do it with excellence. If the preaching isn't strong, make the message shorter. In all cases, keep practicing, so you get better. Make sure the service is positive, clearly biblical, upbeat and communicates faith in an atmosphere of grace.
4) The volunteers and congregation express authentic love and care.
Genuine love and attention is unmistakable and irresistible. When people encounter it, it's truly transforming. The source is God's love, but the expression and experience come from the people in your congregation, both from your volunteer leaders and regular attenders.
5) They hear current stories of life change.
Connected to brief and creative communication of your purpose or mission/vision are stories of life change every week. These stories need to be communicated in a variety of creative ways. That is hugely compelling and draws people back. Life change is inspiring, and it gives hope that they too can experience positive and spiritually oriented change.
6) There are no "glaring" shortcomings.
There are no perfect churches, we all have flaws. But there should be nothing that is an immediate turn-off, or so grossly out of line that it makes people feel awkward and uncomfortable. For example, I've seen nurseries that were unclean and unsafe. I've listened to worship sets that were painfully unrehearsed. Or it may be something as simple as the building is in desperate need of a fresh coat of paint or signage that is clear and helpful. If you are not sure, invite a church consultant to come in for one Sunday, that's all it takes!
7) The children's ministry is outstanding.
Each of your ministries matter, but children's ministry is the one that receives the least grace from your guests. Parents are justifiably protective and want the best for their kids. They don't yet know you or what happens when they drop off their children. Candidly, guests will give an "average" service another shot, but if their child has a bad experience, they will not likely return. Invest great effort and energy in your children's ministry.
These are the elements that inspire guests to return. This gives you the opportunity to make the "deeper connections."
The most common paths to deeper connection – (longer term, greater commitment, and ownership of the vision) are:
Small groups

Serving opportunities

Deeper friendships
Make your next steps simple and clear.
Leading a local church is complicated. But sometimes breaking it down like this helps you become more intentional and know where to invest your energy best.
Learn more about Dan Reiland and his ministry here.
_________________________________________
Like the blog ?  Check out SSU's Q/A Study Guides by clicking here.


_________________________________________

The Necessity of Good Works for Christians
This article originally appeared on Founders.org.
Are good works necessary for Christians? If so, in what sense? There was an enormous historical dispute among Protestants about whether it is right to say good works are "necessary for salvation." After a long debate among themselves, the Lutherans rejected the language of good works as "necessary for salvation," and opted instead to say that they are "signs of eternal salvation." The Reformed, on the other hand, believed the dispute was largely a debate over words, and they couldn't see any significant difference between saying, "good works are necessary for salvation," and it is "impossible to be saved without good works."
The Marrow Men of Scotland, including James Hog, Thomas Boston, and Ebenezer and Ralph Erskine, jointly composed a document of answers to questions from the Commission of the General Assembly, which in part, addressed the question of the necessity of good works. They said they preferred not to speak of good works as being "necessary for salvation" because of "the danger of symbolizing with the Papists and other enemies of the grace of the gospel." They feared that to say good works are "necessary for salvation" might imply that human beings cause their own salvation or that they save themselves by their good works.
The Marrow Men did, however, affirm that good works are "consequents and effects of salvation already obtained, or antecedents, disposing and preparing the subject for the salvation to be obtained," but they denied that good works are "causes or proper means of obtaining the possession of salvation." They would rather say, "holiness is necessary in them that shall be saved than necessary for salvation; that we are saved not by good works, but rather to them, as fruits and effects of saving grace; or that holiness is necessary unto salvation, not so much as a means to an and, but as part of the end itself." In other words, good works are not necessary in order to obtain salvation, but God saves us in part by giving us good works as gifts purchased by the merits of Christ. God saves us from sin and disobedience by giving us holiness and good works.
John Colquhoun (1748-1827), who was a proponent of the Marrow Theology, wrote a wonderful book titled, A Treatise on the Law and the Gospel. In that book, he helpfully takes up the question of the necessity of good works in the life of the Christian. Here's a summary of what he says:
Ways in Which Our Good Works are Not Necessary
1. Our good works are not necessary to move God to be merciful and gracious to us. "While we were enemies, we were reconciled to God by the death of his Son" (Rom 5:10). God freely extends grace and mercy to us!
2. Our good works are not necessary to afford us a right to trust in Christ for salvation. In other words, we don't have to do good works before we trust in Christ. Jesus said, "I have not come to call the righteous but sinners to repentance" (Lk 5:32). Your sin and lack of good works is the reason for you to come to Christ by faith!
3. Our good works are not necessary for us to acquire a personal relationship with Christ. We can never deserve to have a relationship with Jesus by our good works. The Jews, wrongly, did not pursue God "by faith but as if it were based on works" (Rom 9:32). We should only seek to enter into a personal relationship with Jesus by faith.
4. Our good works are not requisite to acquire for us a right to increasing degrees of sanctification. In other words, we don't have to do good works before God will grow us in holiness and Christlikness. God says, "you were washed, you were sanctified" (1 Cor 6:11), meaning God works holiness in His people unilaterally.
5. Our good works have no place in obtaining for us a right to eternal life in heaven. Your ownership of or "title" to heaven does not depend at all upon your good works. Hebrews 9:12 says that Jesus "has obtained eternal redemption" for us. Jesus bought our inheritance by His obedience!
Ways in Which Our Good Works are Necessary
1. Our good works are necessary as acknowledgements of God's authority over us and as acts of obedience to His commandments. Paul says, "For this is the will of God, your sanctification" (1 Thess 4:3).
2. Our good works are necessary as fruit of the eternal election of the Father, redemption in Christ, and regeneration by the Spirit. "God chose you as the first fruits to be saved through sanctification by the Spirit and belief in the truth" (2 Thess 2:13). "For we are His workmanship, created in Christ Jesus for good works, which God prepared beforehand that we should walk in them" (Eph 2:10).
3. Our good works are necessary as one great end of the gospel of Jesus Christ. 1 Timothy 6:3 speaks of the gospel as "the doctrine which is according to godliness."
4. Our good works are necessary expressions of gratitude to our God and Savior for all His benefits to us. "Therefore let us be grateful for receiving a kingdom that cannot be shaken, and thus let us offer to God acceptable worship, with reverence and awe, for our God is a consuming fire" (Heb 12:28).
5. Our good works are necessary to walk in the way that leads to heaven. Good works are not necessary to have the right or title to heaven, but they are necessary to walking in Christ, and only those who walk in Him go to heaven. Hebrews 12:14 says, "Strive for peace with everyone and for the holiness without which no one will see the Lord."
6. Our good works are necessary to evidence and confirm our faith. James says, "Faith by itself, if it does not have works, is dead . . . I will show you my faith by my works" (Jas 2:17-18). Since true faith produces good works, good works prove or give evidence of faith.
7. Our good works are necessary for making our calling and election sure to us. Our good works bear witness to us that we are God's children. "Therefore, brothers, be all the more diligent to make your calling and election sure, for if you practice these qualities, you will never fall" (2 Pet 1:10).
8. Our good works are necessary to continue in the peace and joy of the Holy Spirit. "Great peace have those who love your law" (Ps 119:165). Jesus said, "If you keep my commandments, you will abide in my love . . . These things I have spoken to you that your joy may be made full" (Jn 15:10-11).
9. Our good works are necessary to adorn the doctrine of Christ. Christians are to show "all good faith, so that in everything they may adorn the doctrine of God our Savior" (Titus 2:10).
10. Our good works are necessary to silence the accusations of unbelievers and to prevent offense. "Keep your conduct among the Gentiles honorable so that when they speak against you as evildoers, they may see your good deeds and glorify God on the day of visitation" (1 Peter 2:12).
11. Our good works are necessary for the edification and comfort of fellow Christians. "So then, as we have opportunity, let us do good to everyone, and especially to those who are of the household of faith" (Gal 6:10).
12. Our good works are necessary for promoting before the world the manifest glory of Christ. Paul prays that believers will be "filled with the fruit of righteousness that comes through Jesus Christ to the glory and praise of God" (Phil 1:11).
All of this is consistent with what we find in the Second London Baptist Confession, Chapter 16, Of Good Works:
"These good works, done in obedience to God's commandments, are the fruits and evidences of a true and lively faith; and by them believers manifest their thankfulness, strengthen their assurance, edify their brethren, adorn the profession of the gospel, stop the mouths of the adversaries, and glorify God, whose workmanship they are, created in Christ Jesus thereunto, that having their fruit unto holiness they may have the end eternal life." (Paragraph 2)

"We cannot by our best works merit pardon of sin or eternal life at the hand of God, by reason of the great disproportion that is between them and the glory to come, and the infinite distance that is between us and God, whom by them we can neither profit nor satisfy for the debt of our former sins; but when we have done all we can, we have done but our duty, and are unprofitable servants; and because they are good they proceed from his Spirit, and as they are wrought by us they are defiled and mixed with so much weekness and imperfection, that they cannot endure the severity of God's punishment." (Paragraph 5)

"Yet notwithstanding the persons of believers being accepted through Christ, their good works also are accepted in him; not as though they were in this life wholly unblamable and unreprovable in God's sight, but that he, looking upon them in his Son, is pleased to accept and reward that which is sincere, although accompanied with many weaknesses and imperfection." (Paragraph 6)
Therefore, in order to avoid any implication that we save ourselves by our good works, or that our good works have some sort of causal or instrumental power in saving us, perhaps we should avoid saying that "good works are necessary for salvation." Orthodox Reformed theologians used that terminology, and they used it with the appropriate caveats. Nevertheless, the language is prone to confusion, and the church might be better served to say, "Good works are necessary fruits of salvation," or "Good works are necessary from salvation," or maybe more precisely, "Part of God's salvation is that He saves us from sinful works by giving us good works." We should avoid any implication that people should do good works so that they can obtain their salvation by their works. That would be to side with the Papists and enemies of the gospel.
Check out more of  Tom Hicks  writings on founders.org.
___________________________________
Like the blog ?  Please try our Video Sunday School Lesson Previews.  They'll help focus your study time as you prepare to teach.   See a sample here.  Get this week's Video Lesson Preview by registering as a new user.  If you've only had a Trial subscription, the first month is free.  If you've already had a trial, then you can reactivate your subscription by clicking here
           Log In Here and following the prompts.  Detailed instructions are found here.

_________________________________________
Ten Facts You Should Know about the Southern Baptist Convention
by Sam Ranier (Sam's blog)

I'm in Phoenix this week sweating it out at the annual meeting for Southern Baptists. In essence, the gathering is a giant, two-day church business meeting with thousands of people. Robert's Rules of Order keeps the chaos at bay. Every year I'm here, ballot in hand. I love my tribe.
Many of my readers may not be familiar with the Southern Baptist Convention. That's understandable—there are plenty of other networks, associations, and denominations that do kingdom work. For this post, I'll share ten key facts about the SBC.
The SBC is often called "America's largest Protestant denomination." However, in all technicality, we're a convention not a denomination. The SBC does not have a top-down denominational structure. We're a collection of ministries supported by a cooperating network of churches.

Every church within the SBC is locally autonomous, meaning each church makes their own decisions about staff, budget, programs—everything. Since each SBC congregation is self-governing, there is no head office in Dallas, Nashville, or Atlanta giving orders to churches. The cooperation of churches within the SBC is completely voluntary.

With almost 50,000 churches, the SBC is not geographically bound to the American South. We have churches in every state.

Most SBC churches cooperate at the local, state, and national levels. The local association level is typically a small group of churches in one area focused on community-specific needs. The state level helps fund a broader work, such as children's homes. The national level includes eleven agencies, such as seminaries and mission boards.
The funding mechanism for mission work is called the cooperative program, a "mighty river" that is way too complicated to explain in a blog post.
Baptists in general, and Southern Baptists specifically, have a history of being a "contentious lot." We tend to fight, mainly over non-essentials. The crazy uncles make our annual meetings more fun, since anyone can approach the mic and say whatever they want.

The SBC receives direction once a year at the annual meetings. Representatives from churches, called messengers, gather for two days to hear reports from agencies, vote on budget allocations, and elect agency trustees, among other items.

In 1814 Baptist across the United States came together in the General Missionary Convention of the Baptist Denomination, often called the Triennial Convention, since it met every three years. However, by 1844 the Southern Baptists and Northern Baptists were split over the issue of slavery. When the Northern Baptists would not send Southern missionaries who held slaves, the Southern Baptists formed their own convention in 1845. It's a terrible part of our history, but we're righting our wrongs. In 1995, we adopted a resolution apologizing for our racism. In 2012, we elected our first African-American president, Fred Luter. And in one of my favorite SBC moments, we adopted a resolution in 2016 against the Confederate Battle Flag after a bold stand from James Merritt.
From the 1960s to the 1990s the SBC went through a major transition—away from liberal theology and towards conservative theology. The struggle was called the Conservative Resurgence by supporters and the Fundamentalist Takeover by detractors.
The SBC has a legacy of evangelistic zeal, but this fervor is fading. For several years in a row, SBC baptisms have declined. The main reason is the waning of evangelism and discipleship in SBC churches.
To all my SBC readers, see you in Phoenix!  See more from Sam here.
__________________________________________
Like the blog ?  Check out SSU's Q/A Study Guides by clicking here.

__________________________________________
My Facebook friend Fred Smith recently posted this :
Not my Lord, then not my Saviour
Walter Chantry makes the following comments:
Often Christ turned crowds away by insisting that 'whosoever he be of you that forsaketh not all that he hath, he cannot be My disciple' (Lk. 14:33). He was not speaking of abundant life nor of 'victorious' giants of the faith…He demanded this turning from everything to himself as a condition of discipleship for everyone.
The young ruler would turn from earthly riches to heavenly or he would cling to earthly riches and perish…The sinner must know that Jesus will not be a Savior to any man who refuses to bow to him as Lord…Christ knew nothing of the man–made twentieth–century suggestion that taking Jesus as Lord is optional.
For him it was no second step which is essential for great blessings but unnecessary for entering God's kingdom. The altered message of today has deceived men and women by convincing them that Jesus will gladly be a Savior even to those who refuse to follow him as Lord. It simply is not the truth!
Jesus' invitation to salvation is, 'Come, follow me'…Practical acknowledgment of Jesus' Lordship, yielding to his rule by following is the very fibre of saving faith…Believing is obeying. Without obedience, you shall not see life! Unless you bow to Christ's scepter you will not receive the benefits of Christ's sacrifice. That is just what Jesus said to the ruler
(Walter Chantry, Today's Gospel – Synthetic or Authentic? (Edinburgh: Banner, 1970), pp. 55, 59-60).
The comments on this post are also enlightening.  See them here.
__________________________________________
Like the blog ?  Please try our Video Sunday School Lesson Previews.  They'll help focus your study time as you prepare to teach.   See a sample here.  Get this week's Video Lesson Preview by registering as a new user.  If you've only had a Trial subscription, the first month is free.  If you've already had a trial, then you can reactivate your subscription by clicking here
           Log In Here
and following the prompts.  Detailed instructions are found here.
__________________________________________
I recently saw that doom's day bunkers are on the rise. I'm not really a retreat underground with canned goods kind of guy. But, I'm growing in my appreciation for those who can identify real threats and take measures to guard against them. Any threat assessment of the church runs the risk of sounding universal and hopeless. So, qualification one and two: (1) These threats are shared from a very limited vantage point. (2) God can obliterate these threats with a flick of His wrist. Here are four practical threats on my radar:
We face a threat of not meeting regularly enough as a church. If I were the devil, I would get Christians separated. I would convince them that one hour a week is plenty of time for them to spend together. When I was young, I had the privilege of growing up in a church where I was taught the Bible multiple times a week. Between Sunday mornings/evenings and Wednesday nights, I tally up at least 8 hours a week spent with the people of God, much of which included hearing biblical truth. I have no idea how many sorrows I've been spared and how many blessings I've received from the common means of grace as common people served me God's Word. Many Christians today only sporadically gather with God's people on Sunday morning. No organization, school, army, or church can survive scanty assembling. God commands us to stir one another up to love, "not neglecting to meet together, as is the habit of some, but encouraging one another, and all the more as you see the Day drawing near" (Hebrews 10:25). Our failure to assemble is not mainly one of discipline, but desire. We simply do not really love God's Word and people as much as we say we do. Add to that an adolescent view of what the church is, and you have vast amounts of Christians very busy, but not with seeing the church built up throughout the world. Neutralize this threat with this book: Church Membership by Jonathan Leeman
We face a threat of self-centeredness. Oxford dictionaries' word of the year in 2013 was selfie. Facebook did not create this phenomenon in the human heart, but it has revealed the me-monster within. Social media is a mixed bag that the enemy has used to exacerbate our obsession with number one. The church, however, thrives on looking away from ourselves to Christ and others. The church cannot function appropriately when members don't deny themselves. It is a recipe for disaster when we start to think the church exists for me to express my gifts or in order to accommodate my preferences. It is common to hear, "I want to go to a church with deep community, solid preaching, and passionate missions." But, what we need to hear is, "In this church, I am going to initiate deep community, promote solid preaching, and sacrifice toward the end of passionate missions." Paul's words serve us well as we face this particular danger, "Do nothing fromselfish ambition or conceit, but in humility count others more significant than yourselves" (Philippians 2:3). Neutralize this threat with this book: Side By Side by Ed Welch
We face a threat of being thin on the Bible. Yes, we have some verses memorized. And certain culturally-acceptable Christian morals still guide us. But, it increasingly seems that a large swath of evangelicals have very little Bible in their bones. Every Christian is being discipled by the world around him or her. That is why Paul says, "Do not be conformed to this world, but be transformed by the renewal of your mind" (Romans 12:2). In certain ways, I fear we have been Cannanized. God has much to say about how we spend our time, how we function in the home, what we set before our eyes, when and to whom we submit, how we spend our money, and how we raise our children. If we drift from God's Word on these topics, and others, we are in real danger. We need to get serious about changing our mind to agree with God's Word for "all Scripture is breathed out by God and profitable for teaching, for reproof, for correction, and for training in righteousness, that the man of God may be complete, equipped for every good work" (2 Timothy 3:16-17). Neutralize this threat with this book: Taking God at His Word by Kevin DeYoung
We face a threat of fearing man and not fearing God. The gospel demands that we fear God, not man. If we are to love man how we ought to love him, then we must not fear him. When told by the authorities to cease speaking of Christ, Peter and John replied, "Whether it is right in the sight of God to listen to you rather than to God, you must judge, for we cannot but speak of what we have seen and heard" (Acts 4:19-20). If you strike that tone today, you will likely get a few raised eyebrows even from well-meaning Christians. Why is that? Our orientation is off. We offer man respect at God's expense. God has commanded us to fill the earth with the knowledge of the Lord. But, we put this command and others aside when man says such activity is unacceptable. We've lost a context for understanding Psalms like Psalms 2, 5 and 7. And we're losing a place in the Christian life for "fearing God and keeping His commandments" (Ecclesiastes 12:13). May God give us grace to pray with David, "Unite my heart to fear your name" (Psalm 86:11). Neutralize this threat with this book: When People are Big and God is Small by Ed Welch
__________________________________________
Like the blog ?  Check out our Q/A Study Guides by clicking here.

__________________________________________
(Posted May 29, 2017)
The Top 10 Modern-day Things Pharisees Say



Chances are that if you're a Christian, your desire is to be more like Christ.
That's great.
But are you?
How would you know?
A recent Barna study owned me.
The survey revealed that 51% of the North American Christians polled all possess attitudes and actions that are more like the Pharisees than they are like Christ.  In other words, the attitudes of most Christians were described as self-righteous and hypocritical.  According to the study, only 14% of Christians surveyed reflected attitudes and actions that better resembled the attitudes and actions of Christ.
What surprised me (as well as study author David Kinnaman) is how my attitudes and actions still need work…. I'm far too much like a Pharisee and not enough like Jesus. I was so bothered by it I taught an entire series about it. And you can watch a conversation David Kinnaman and I had about the research here.  What breaks my heart is that I think the Pharisee in many of us is killing the mission and effectiveness of the church.
So how do you know how much Pharisee resides within you?
In Defense of the Pharisees (Well, Almost Defense)
Before we jump to that, I understand that in many church circles, to simply say the word 'Pharisee' is to immediately conjure up an image of a villain.
Pharisee=bad.
And yet the Pharisees were, to some extent, well-meaning people. They studied the law and knew it as well as anyone.  Their downfall, among other things, centered on their self-justification and self-importance.  But there's evidence that some Pharisees were sincerely seeking God. After all, Nicodemus and Joseph of Arimathea, both Pharisees, arranged for Jesus' burial. They were sympathetic to Christ and, from what we can tell, ultimately ended up following him.  Similarly, the mission of the early church was radically advanced by a converted Pharisee—Paul.
And yet Jesus condemned the Pharisees for their pride, lack of compassion and hypocrisy.  The irony, of course, is this: the people who purported to love God most ultimately killed him when he showed up.  This isn't about Jews and Gentiles. It's about religious people (like you and me) who in the name of God deny who God really is.  Denying God is exactly what we do when our attitudes justify us more than they reflect the heart and love of Christ.
10 Things Today's Pharisees Say
So what do today's Pharisees say? Based in part on the research and in part from my own experience, here are the top 10 things today's Pharisees say.
A word of caution. As you read them, don't think about who these phrases remind you of nearly as much as you think about how they reflect your attitude and actions.
If we all do that, we will all be better off and the church will be stronger for it.
1. "If he knew the Bible as well as I did, his life would be better."
Yup, there it is. Judgment and self-righteousness rolled up into a neat little package.
I really want people to read their Bibles. But when I get smug and superior about reading mine, I miss the point.
2. "I follow the rules."
And if you do, awesome.
But that's not what got you into Christianity, is it? You got in because of the mercy which Christ extended to you when you broke the rules.  Following the rules doesn't keep you in the love of God any more than it got you into the love of God.  So why follow the rules? Following the rules is a response to the love of God.  And your attitude should be one of gratitude, amazement, and humility.
3. "You shouldn't hang around people like that."
I understand that we have to choose friends for our kids carefully.  But when applied to adults, this thought process stinks. 

One of the reasons many churches aren't growing is because Christians don't know any non-Christians.  If many of us were preaching the parable about being the salt of the earth today, we'd switch it up and command the salt to stay in its hermetically sealed box and never touch any food.  Of course, Jesus said the opposite. Salt needs to get out of the box to season food.  And Jesus paid a price for that among religious people. They couldn't fathom why he would hang out with tax collectors, hookers, and other notorious sinners.  When was the last time you hung out with a hooker?
Convicting, isn't it? Disturbing, isn't it?
Yes, it is.
4. "God listens to my prayers."
Prayer is amazing. And we do trust that God listens to our prayers.  But, as we've said before in this space, prayer is not a button to be pushed nearly as much as it is a relationship to be pursued.  The smugness and certainty with which many Christians talk about prayer must strike people as weird, weird, weird.  The biblical portrait of prayer is as much about broken people embracing the mystery and majesty of a forgiving God as much as it is about anything. 

When prayer becomes a predictable formula that manipulates or controls God, you can be pretty sure you're no longer praying.
5. "Sure I have a few issues, but that's between me and God."
And if you keep it between you and God, people will never be able to relate to you.  Perfect on the outside and flawed on the inside—that's the accusation Jesus levied against the Pharisees.  When people on the outside look at pretend-to-be-perfect Christians, it does three things:
It alienates them.
It makes them think you're fake… because even they know we're all broken.
It suggests God can't help them.
The antidotes?  Transparency.   Vulnerability.  Honesty.
When you let people know you don't have it all together but you've met an amazing God, many people suddenly want to join in.
6. "They just need to work harder."
Jesus loved the poor and had compassion on broken people.  Many Christians today don't.  (Self-righteousness rears its ugly head again.)  Yes, I am very familiar with the passages in scripture that talk about hard work and prudence. I try to live by them.  But when I allow my relative 'success' to serve as a basis to judge others… I miss mercy.
Compassion should be a hallmark of Christians. The early church's compassion in the first few centuries after Jesus' resurrection was one of the key reasons the Christian faith spread so rapidly, even amidst extreme persecution.
7. "Of course I'm a Christian."
Few people are better at explaining the difference between moralistic self-righteous religion and authentic Christianity these days than Tim Keller.  Keller points out again and again in his preaching that religious people say things like "Of course I'm a Christian"… and that underneath is a pernicious idea that they have somehow earned the favour of God by their obedience and faithfulness.  True Christians, he says, by contrast, are filled with wonder, amazement, and gratitude that God would accept them despite their brokenness? When asked whether they are Christian, they say things like "I know, isn't that unbelievable? Can you believe that God would extend his mercy to someone like me through Christ? I am amazed! Grateful! Overwhelmed!"
I love Keller's heart on this.
By the way, if you want to hear an extraordinary message on the prodigal sons (sic), do yourself a favour and spend 38 minutes listening to this message.
8. "More people need to stand up for Christian values."
As Christendom slips away in our lifetime here in the West, we long for what used to be.  But moving forward we will have more in common with our first-century counterparts in Christianity than with our 20th-century forebears. They lived out their faith in a world that didn't share their values, but rather than fight their non-Christian counterparts, they laid down their life for them.  While some people might get very angry and demand that we stand up for Christian values, I think the biblical argument runs the other way. As I outline here, maybe one of the best things Christians today can do is let non-Christians off the moral hook.
Christians should live out Christian values deeply and authentically. But why would we hold non-Christians to a standard they don't believe in, anyway? Jesus and Paul never appeared to do this… not even once.
9. "I'm simply more comfortable with people from my church than I am with people who don't go to church."
This is one major reason why you and your church are incredibly ineffective at reaching unchurched people.  If you want to change that, go to some parties and get to know some people who are far from God.  You will discover that God likes them. And you might discover you do too.
And people – who at one time didn't follow Jesus –  might even start following Jesus.
10. "People who don't go to church can come if they want to."
And Nero fiddled while Rome burned.
Too many churches are all about the preferences of its members than the push of the Gospel.  Here are some suggestions on what you can do if you serve in a church where people don't want your church to change.  Again, please hear me, because this is as much a challenge to me as it is to anyone else. There is a Pharisee that lives in me.  But before we leave this, can you imagine what would happen if Christians today exuded the love, truth, grace and mercy of Christ?  I think the church would be different.
What attitudes do you need to check in yourself?
What other things have you heard that are impeding the mission of the church?
Learn more about Carey Nieuwhof and his ministry here.

______________________________________
Like the blog ?  Please try our Video Sunday School Lesson Previews.  They'll help focus your study time.  Get a sample here.
_______________________________________
(Posted May 1, 2017)
Note :  Attribution for this article is at the end, along with contact info for the author.
Ministering to the Rural Homeless – If You Can Find Them
In rural settings, homelessness is a real problem – if you can find the rural homeless that is. Moreover, funding for state and federal dollars is often attached to the number of homeless people identified during a federally mandated annual reporting period. A recent report by the  Institute for Rural Journalism and Community Issues, based at the University of Kentucky addresses the challenge of serving the homeless population of rural America. The article leads by stating,
While about 7 percent of homeless Americans live in rural areas, those official numbers come from homeless counts of people living on the street and in shelters, not those staying with friends or in cheap hotels on cold nights in January, the month when yearly counts take place.
Source: The Rural Blog: Likely short counts of homeless counts cost rural areas federal funds, say advocates for homeless
Add to that families living in tent-cities in the middle of wooded land, or on the edge of a corn field and you're talking about a higher percentage than 7%. Identifying the rural homeless presents multiple challenges however, especially when mandated government strategies get in the way.
Why National Strategy Doesn't Work In Rural Contexts
Our county participates in the nationwide "Point in Time Count," an initiative of the Department of Housing and Urban Development (HUD), which (as the above quote indicates) happens every January. Of course there is only one problem with getting a headcount on rural homelessness in January…
Most rural counties in America (like mine) do not have functioning homeless shelters. HUD, of all agencies, should know this. The model for the count is based on urban homelessness, during the time of year when the most people seek shelter because of the cold. In major cities with ample shelter, this may seem like a great model, but surely not in rural settings without shelters!
For rural counties, the premise is wrong from the start, and is a fine example of how one-size-fits-all initiatives created by urban bureaucrats often fall flat in rural and small town contexts.
Helping the  Rural Homeless Locally
A report came out for Middlesex County, VA (where I live) in 2014, identifying 5 homeless people in the area… in January.  In my view this is an insufficient strategy for identifying (and ultimately providing assistance to) the rural homeless. During the cold months, because of lack of shelter, most homeless people and families migrate to cities where they can more receive human and social services. My friends who did the counting are not to blame, because they were simply complying with a government mandated initiative.
A conversation has started among a few county churches and agencies about how to better serve the homeless population in our area, and we've already identified three tent cities in wooded areas where homeless people camp. One is behind a local grocery store, one is in proximity to a roadside vegetable stand, and another along wooded edge in a cornfield near a church. The population at these locations surely rises when weather is fair, and if I had to bet, the population is likely its largest in July, not January.
State and Federal funding for addressing homelessness is based on HUD's annual "Point in Time Count," when many rural homeless have fled to urban shelters. This means not only are the rural numbers skewed, but the urban ones also. Ultimately, more money goes towards addressing urban homelessness instead of rural homelessness, and part of the reason is that the annual count is done when urban numbers swell and rural numbers deflate.
I'm actually interested in speaking with local county officials and even my state representatives about how to correct this flaw in the counting system. Until then, I'm curious about how rural churches can partner together to address homelessness and subsistence-living in our midst.
One great model is Caritas Ministries in Richmond (an hour east), and another is the G.U.E.S.T. program in Gloucester (about 30 miles south). Each program successfully reaches  homeless individuals through faith-based partnerships, and may serve as a model for congregations in Middlesex.
I'm interested to hear from you! How have you tackled the challenges of serving the rural homeless in your county? Are there other resources worth exploring? Has anyone explored grant funding? Can't wait to hear from you!
Jonathan Davis
 Jonathan Davis pastors Urbanna Baptist Church, in Urbanna, VA. He serves on the Virginia Baptist Mission Council and is a doctor of ministry candidate at Logdson Seminary, where his research focuses on equipping small-town churches for 21st century ministry. He is the founder of the Small Town Churches Network (www.smalltownchurches.org), which is dedicated to sharing research, ideas and tools to help small-town churches. Follow him on Twitter @jonathandavis_.
_______________________________________
Like the blog ?  Please try our Q/A Study Guides.  They'll help stimulate discussion in your class.  Get a sample here.
_______________________________________
This devotional note came from my FaceBook friend Rudy Holland's recent FB post.  Friend or follow him here :  https://www.facebook.com/rudy.holland.5?fref=nf
All of this worlds goods and wealth comes from the Lord. God gives to each of us that we may give back to Him. When Israel left Egypt the Word of God tells us, " and they borrowed of the Egyptians jewels of silver; and jewels of gold, and raiment: " ( Exodus 12:35) Now in chapter 25 of Exodus God desires that a sanctuary be built for Him. The people are ask to bring an offering, " willingly" to build the tabernacle. The Lord said to Moses, " Speak unto the children of Israel, that they bring me an offering: ( Exodus 25:2) In Verses 3-7 we have a list of the specific items that God ask the people to bring. These items coincide with the very things that the people took from Egypt.
My thought for today is that God gives to us that we may give to Him! Most of you go into Egypt, a picture of the world, each day and on pay day you take from Egypt for your labor. God ask that each of us return a portion of that which we have to Him. We will never be faithful to give to the Lord until we acknowledge that ALL we have comes from the Lord. Our giving is not just an act of obedience, but is an acknowledgement of His ownership of our lives. Giving is also an expression of love and desire for the presence God. I guest it is best said by the old Preacher, Uncle Buddy Robison; " You must have THREE books to worship the Lord; the GOOD Book, the HYMN book, and the POCKET book." I fear to many of us fail to bring our POCKET BOOKS to the Lord! God bless and have a great day!!
_________________________________________
This article originally came from The Babylon Bee.  Those of you who are incapable of recognizing satire, please take note :  EVERYthing published on that site is satire.
Genetic Scientists Create Flawless Worship Leader
CAMBRIDGE, MA—According to an announcement made at MIT Monday, a team of genetic scientists has created a "genetically flawless" worship leader, who exhibits none of the usual faults of ordinary worship leaders.
The team of scientists worked tirelessly on the DNA code of the worship leader for over fifteen years, tweaking and refining his genetic attributes to remove all annoying traits of regular worship leaders.
The prototype, named Blaze Niles, can play any hymn or worship song on command in a key the congregation can actually sing in, according to the researchers, and never deviates from a song arrangement or ad-libs any lyrics.
"He doesn't explain his reasons for choosing every single song he plays. He doesn't lead impromptu prayers. He never asks for the congregation to do something weird or cringey like repeat a certain phrase over and over or suddenly embrace everyone around them," head researcher Dr. Alan Carter said. "He can even play bar chords!"
"Niles also prefers to wear a sensible tee or polo shirt with slacks while leading worship, with contemporary yet tasteful white-soled sneakers, and absolutely refuses to don a beanie or scarf unless the weather requires it," Dr. Carter added.
A production version of the flawless worship leader for churches to order is in development, sources at MIT confirmed.
_________________________________________
This article is by Thom Ranier, and originally appeared on his website in 2015.  Get more of Thom's stuff here :  http://thomrainer.com
Seven Things Church Members Should Say to Guests in a Worship Service
One of the more common questions I'm asked relates to growth barriers. For example, church leaders may want to know how to move past the 150-attendance level of the past five years. Or other leaders desire to know how to break though financial giving barriers.
Those questions are tough because they often presume a brief response to be adequate. In reality, there are many theological and methodological issues at work in growth barriers. Today, I am looking at a very basic barrier: lack of friendliness to church guests.
In a previous blog post, I noted things we should not say to a guest in our worship services. In today's post I look at the positive perspective: seven things we should say to guests.
"Thank you for being here." It's just that basic. I have heard from numerous church guests who returned because they were simply told "thank you."
"Let me help you with that." If you see someone struggling with umbrellas, young children, diaper bags, purses, and other items, a gesture to hold something for them is a huge positive. Of course, this comment is appropriate for member to member as well.
"Please take my seat." I actually heard that comment twice in a church where I was speaking in the Nashville area. The first comment came from a member to a young family of five who were trying to find a place to sit together.
"Here is my email address. Please let me know if I can help in any way." Of course, this comment must be used with discretion, but it can be a hugely positive message to a guest.
"Can I show you where you need to go?" Even in smaller churches, guests will not know where to find the nursery, restrooms, and small group meeting areas. You can usually tell when a guest does not know where he or she is to go.
"Let me introduce you to ___________." The return rate of guests is always higher if they meet other people. A church member may have the opportunity to introduce the guest to the pastor, other church staff, and other members of the church.
"Would you join us for lunch?" I saved this question for last for two reasons. First, the situation must obviously be appropriate before you offer the invitation. Second, I have seen this approach have the highest guest return rate of any one factor. What if your church members sought to invite different guests 6 to 12 times a year? The burden would not be great; but the impact would be huge.
Let's look at one example of breaking attendance barriers by saying the right things to guests. Presume your church has two first-time guests a week. Over the course of a year, the church would have 100 first-time guests. With most of the members being genuinely guest friendly, you could see half of those guests become active members. Attendance could thus increase by as much as 50 persons every year.